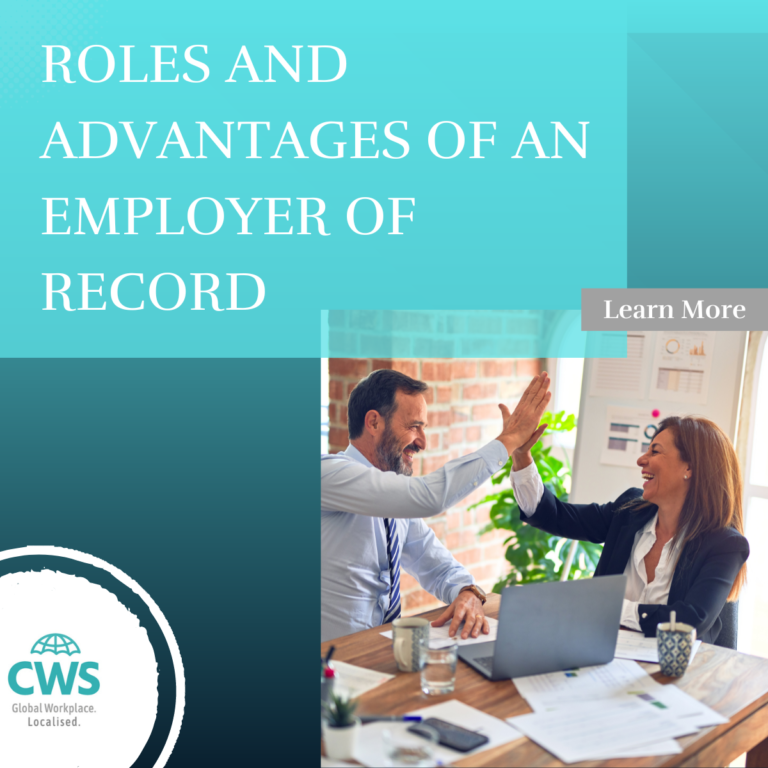 What Do We Do As An Employer of Record Service?
As Employer of Record (EoR), CWS Israel is a third-party organisation that takes on the legal responsibility for all official employment tasks on your behalf. Essentially, our EoR service allows businesses to engage with Israeli workers without the need to establish a local entity in Israel.
What Is The Role Of An Employer of Record?
The role of an Employer of Record is to handle all the legal and compliance obligations of employment, Insurance, translation and payroll. In essence, the EoR becomes the registered employer for the worker. 
Nonetheless, the EoR does not take on any management responsibilities. The original employer retains control over work relationships and maintains decision-making authority regarding matters such as compensation, duties, projects, and termination.
Our responsibilities as an Employer of Record include:
Assisting with visas, employee contracts, and work permits to ensure smooth processing without delays or refusals.

Ensuring compliance with the Israeli laws regarding taxes, labour codes, worker protection, and contracts.

Providing information to the employer local laws regarding notice periods, severance pay, and termination rules.

Acting as a liaison between government authorities of Israel and the employees.
Advantages Of Utilising An Employer of Record
Using our Employer of Record service offers several benefits, especially when conducting business in Israel. Some advantages of employing an Employee of Record are:
Simplified immigration compliance:

We expedite the immigration compliance process, reducing complexities and potential risks.

Avoidance of local incorporation:

Companies can bypass the burden and costs associated with establishing a local entity in Israel.

Local payroll management:

We take care of managing the local payroll in Israel, ensuring adherence to local regulations.
If you are considering doing business abroad, and exploring Israeli talent, engaging an Employer of Record can help alleviate the stress of managing administrative functions, allowing you to focus on core business operations. Feel free to contact us today for a consultation.